---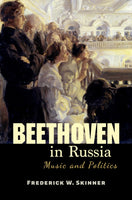 How did Ludwig van Beethoven help overthrow a tsarist regime? With the establishment of the Russian Musical Society and its affiliated branches throughout the empire, Beethoven's music reached substantially larger audiences at a time of increasing political instability. In addition, leading music critics of the regime began hearing Beethoven's dramatic works as nothing less than a call to revolution.
Beethoven in Russia deftly explores the interface between music and politics in Russia by examining the reception of Beethoven's works from the late 18th century to the present. In part 1, Frederick W. Skinner's clear and sweeping review examines the role of Beethoven's more dramatic works in the revolutionary struggle that culminated in the Revolution of 1917. In part 2, Skinner reveals how this same power was again harnessed to promote Stalin's campaign of rapid industrialization. The appropriation of Beethoven and his music to serve the interests of the state remained the hallmark of Soviet Beethoven reception until the end of communist rule.
With interdisciplinary appeal in the areas of history, music, literature, and political thought, Beethoven in Russia shows how Beethoven's music served as a call to action for citizens and weaponized state propaganda in the great political struggles that shaped modern Russian history.
Paperback