---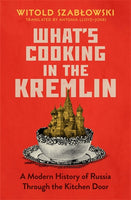 'A spicy and original romp through Russian history' ROBERT SERVICE

'Poignant, comical, and in the best sense disturbing' PAUL FREEDMAN, AUTHOR OF TEN RESTAURANTS THAT CHANGED AMERICA
'This wickedly delicious tale uncovers the secret, gustatory history of the Kremlin and will leave you begging for seconds' DOUGLAS SMITH, AUTHOR OF RASPUTIN: FAITH, POWER, AND THE TWILIGHT OF THE ROMANOVS

What's Cooking in the Kremlin is a tale of feast and famine told from the kitchen, the narrative of one of the most complex, troubling and fascinating nations on earth.
We will travel through Putin's Russia with acclaimed author Witold Szabłowski as he learns the story of the chef who was shot alongside the Romonovs, and the Ukrainian woman who survived the Great Famine created by Stalin and still weeps with guilt; the soldiers on the Eastern front who roasted snails and made nettle soup as they fought back Hitler's army; the woman who cooked for Yuri Gagarin and the cosmonauts; and the man who ran the Kremlin kitchen during the years of plenty under Brezhnev. We will hear from the women who fed the firefighters at Chernobyl, and the story of the Crimean Tatars, who returned to their homeland after decades of exile, only to flee once Russia invaded Crimea again, in 2014.
In tracking down these remarkable stories and voices, Witold Szabłowski has written an account of modern Russia unlike any other – a book that reminds us of the human stories behind the history.
Witold Szabłowski is an award-winning Polish journalist and the critically-acclaimed author of books including Dancing Bears and How to Feed a Dictator. Szabłowski lives in Warsaw.
Hardback.