---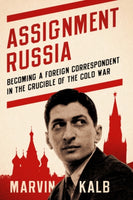 A personal journey through some of the darkest moments of the cold war and the early days of television news. Marvin Kalb, the award-winning journalist who has written extensively about the world he reported on during his long career, now turns his eye on the young man who became that journalist. Chosen by legendary broadcaster Edward R. Murrow to become one of what came to be known as the Murrow Boys, Kalb in this newest volume of his memoirs takes readers back to his first days as a journalist, and what also were the first days of broadcast news.

Kalb captures the excitement of being present at the creation of a whole new way of bringing news immediately to the public. And what news. Cold War tensions were high between Eisenhower's America and Khrushchev's Soviet Union.

Kalb is at the centre, occupying a unique spot as a student of Russia tasked with explaining Moscow to Washington and the American public. He joins a cast of legendary figures along the way, from Murrow himself to Eric Severeid, Howard K. Smith, Richard Hottelet, Charles Kuralt, and Daniel Schorr among many others.

He finds himself assigned as Moscow correspondent of CBS News just as the U2 incident-the downing of a US spy plane over Russian territory-is unfolding. As readers of his first volume, The Year I Was Peter the Great, will recall, being the right person, in the right place, at the right time found Kalb face to face with Khrushchev. DATELINE MOSCOW sees Kalb once again an eyewitness to history-and a writer and analyst who has helped shape the first draft of that history.
Hardback