---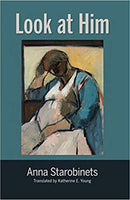 Journalist, scriptwriter, and novelist Anna Starobinets, often called Russia's Stephen King, is best known for her work in horror and her writing for children. In this groundbreaking memoir, Starobinets chronicles the devastating loss of her unborn son to a fatal birth defect. After her son's death, Starobinets suffers from nightmares and panic attacks; the memoir describes her struggle to find sympathy, community, and psychological support for herself and her family.
A finalist for the 2018 National Bestseller Prize, Look at Him ignited a firestorm in Russia, prompting both high praise and severe condemnation for the author's willingness to discuss long-taboo issues of women s agency over their own bodies, the aftereffects of abortion and miscarriage on marriage and family life, and the callousness and ignorance displayed by many in Russia in situations like hers.
Beautiful, darkly humorous, and deeply moving, Look at Him explores moral, ethical and quintessentially human issues that resonate for families in the world beyond Russia, as well. 
Translated by Pushkin House Translation Residency laureate Katherine E. Young.
Paperback