---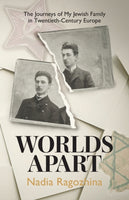 Two brothers grow up on the Jewish streets of Warsaw. At the turn of the twentieth century, Adolphe leaves to seek work and start a family in Switzerland. Marcus moves east, inspired by his Communist beliefs.

In Moscow, he is arrested and exiled. They would never see each other again. A hundred years later, Marcus' great-granddaughter, Nadia Ragozhina, rediscovers the missing part of her broken family.

Could she piece together the stories hidden for generations? Love and separation, hope and paranoia - the lives of the patriarchs, their daughters and granddaughters are set against the Russian Revolution, Stalin's repressions, the persecution of Jews across Europe and the Second World War. Worlds Apart is a rare portrayal of the tumultuous events of twentieth century Europe, seen through the eyes of six women who fought for the survival and happiness of their families.

Paperback