---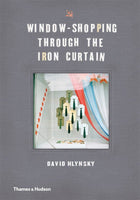 Communist shop windows may long have passed from history into irony, but their distinctive style, handmade charm and implicit critique of modern commercial culture have won them a new generation of fans. This is a wonderfully deadpan celebration of a unique commercial aesthetic that flourished under the crumbling totalitarian Communist regimes of 20th-century Europe.
It features more than 170 images, mainly shop window displays, shot by artist David Hlynsky during the final years of the collapsing Soviet empire in Poland, Czechoslovakia, Hungary, Yugoslavia, Bulgaria, East Germany and Russia, using a Hasselblad camera to capture the slow, undramatic moments of daily life on the streets.
The photographs are accompanied by essays by art historian Martha Langford and cultural studies specialist Jody Berland, as well as Hlynsky's own account of his time as a flâneur in the shopping plazas of the collapsing Soviet empire, "a vast ad-hoc museum of a failing utopia" that in 1989 began to close for ever.
Hardback