---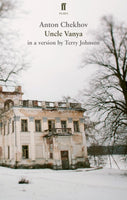 Don't be miserable, you wonderful woman; be a mermaid. There's the ocean; throw yourself in. Fall in love with some poor mortal and drag him down with you. Astonish us!
On an isolated country estate, Sonia and her Uncle Vanya are committed to a life of ceaseless toil. But when the ageing invalid Serebriakov and his bewilderingly beautiful young wife take up residence, a yearning envelops the household and disturbs the accustomed tedium. Friend and confidant Astrov grows lovelorn, Sonia's heart breaks and even Vanya falls under the spell. And so they fight, bond, belittle, lament, make peace and contemplate the odd murder.
Featuring sex, comedy and unbearable sadness in nineteenth-century Russia, this version of Anton Chekhov's Uncle Vanya was written and directed by Terry Johnson and opened at Hampstead Theatre, London, in November 2018.
And having weathered the storm, what's left? My feelings for you; a few droplets on a window pane, catching the sun, running down a way, drying to nothing.
Paperback