---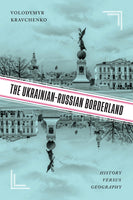 The eastern edge of Europe has long been in flux. The nature of the Ukrainian-Russian relationship is both complex and ambiguous. Prompted by the countries' historical and geographical entanglement, Volodymyr Kravchenko asks what the words Ukraine and Russia really mean.
The Ukrainian-Russian Borderland abandons linear historical interpretation and addresses questions of identity and meaning through imperial and geographic contexts. Dominated by imperial powers, Eastern Europe and its boundaries were in a constant state of flux and re-identification during the Russian imperial period. Here, the Little Russian early modern identity discourse both connects and separates modern Russian and Ukrainian identities and gives rise to issues of historical terminology. Mirroring the historical ambiguity is the geographical fluidity of the borders between Ukraine and Russia; Kravchenko situates this issue in the city of Kharkiv and Kharkiv University as both real and imagined markers of the borderland.

Putting the centuries-long Ukrainian-Russian relationship into imperial and regional contexts, Kravchenko adds a new perspective to the ongoing discourse about relations between the two nations.
Hardback