---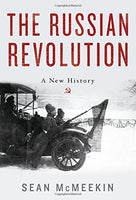 At the turn of the century, the Russian economy was growing by about 10% annually and its population had reached 150 million. By 1920 the country was in desperate financial straits and more than 20 million Russians had died. And by 1950, a third of the globe had embraced communism.

The triumph of Communism sets a profound puzzle. How did the Bolsheviks win power and then cling to it amid the chaos they had created? Traditional histories remain a captive to Marxist ideas about class struggle. Analysing never before used files from the Tsarist military archives, McMeekin argues that war is the answer.

The revolutionaries were aided at nearly every step by Germany, Sweden, and Switzerland who sought to benefit - politically and economically - from the changes overtaking the country. To make sense of Russia's careening path the essential question is not Lenin's "who, whom?", but who benefits?
Hardback