---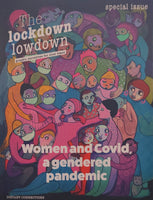 There is extensive evidence that women experienced the COVID-19 pandemic differently than men, in both negative and positive ways. This special edition of The Lockdown Lowdown seeks to capture the vastness of their experiences, with contributions from invited artists, selected submissions from the public and, of course, the core Distant Connections group.
Distant Connections is a comic book collective created during the first lockdown in 2020 by a group of artists from diverse backgrounds in terms of culture, experience, career & geographic location (Europe, China, USA & more).
Their stories reflect on the strangeness of the lockdown experience and explore how drawing and writing help navigate emotions of isolation and loneliness. They believe engaging with the arts boosts confidence and improves mental health.