---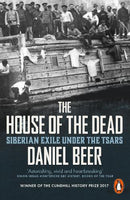 Shortlisted for the Wolfson History Prize 2017
Listed amongst The Times, BBC History, TLS Books of the Year
It was known as 'the vast prison without a roof'.
From the beginning of the nineteenth century to the Russian Revolution, the tsarist regime exiled more than one million prisoners and their families beyond the Ural Mountains to Siberia. The House of the Dead brings to life both the brutal realities of an inhuman system and the tragic and inspiring fates of those who endured it. This is the vividly told history of common criminals and political radicals, the victims of serfdom and village politics, the wives and children who followed husbands and fathers, and of fugitives and bounty-hunters.
The tsars looked on Siberia as creating the ultimate political quarantine from the contagions of revolution. Generations of rebels - republicans, nationalists and socialists - were condemned to oblivion thousands of kilometres from European Russia. Over the nineteenth century, however, these political exiles transformed Siberia's mines, prisons and remote settlements into an enormous laboratory of revolution. This masterly work of original research taps a mass of almost unknown primary evidence held in Russian and Siberian archives to tell the epic story both of Russia's struggle to govern its monstrous penal colony and Siberia's ultimate, decisive impact on the political forces of the modern world.
Paperback