---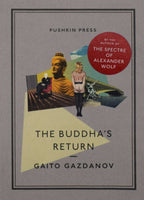 A millionaire is killed. A golden statuette of a Buddha goes missing. A penniless student, who is afflicted by dream-like fits, is arrested and accused of murder.

Slipping between the menacing dream world of the student's fevered imagination, and the dark back alleys of the Paris underworld, The Buddha's Return is part detective novel, part philosophical thriller, and part love story. In typically crisp, unfussy prose, Gazdanov's delicately balanced novel is an irresistibly hypnotic masterpiece from one of Russia's most talented emigre writers. Gaito Gazdanov (1903-1971) joined the White Army aged just sixteen and fought in the Russian Civil War.

Exiled in Paris from the 1920s onwards, he eventually became a nocturnal taxi-driver and quickly gained prominence on the literary scene as a novelist, essayist, critic and short-story writer, and was greatly admired by Maxim Gorky, among others. His 1949 novel The Spectre of Alexander Wolf was published by Pushkin Press to great acclaim in 2013.
Paperback