---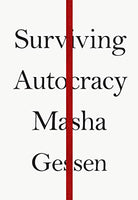 'An indispensable voice of and for this moment' Timothy Snyder, author of On Tyranny
Since Trump's inauguration in 2016, a new mantra has taken hold: 'this isn't normal'. And in Trump's response to Covid-19, we have witnessed the extreme consequences of his presidency, and of a government at war with itself. In this searing analysis of the Trump administration, acclaimed New Yorker journalist and prizewinning author Masha Gessen provides an indispensable overview of the calamitous trajectory of the past few years, and proposes a new understanding of Trumpism and the way it has transformed and endangered American society.
Drawing on two decades covering the resurgence of totalitarianism in Russia, Gessen links together seemingly disparate elements of Trump's regime to offer a roadmap to his approach, policies, and ultimate aims. Highlighting an inventory of ravages to liberal democracy, including the corrosion of the media, the justice system, and cultural norms, Gessen posits that America is in the throes of an autocratic takeover.
As other world leaders queue up to take pages straight out of Trump's playbook, Gessen's penetrating analysis of his misdeeds explains why and how he is degrading our politics, our institutions, and our language, and what we, our political representatives, and our media can do to stop him – and those who seek to imitate him.
Paperback