---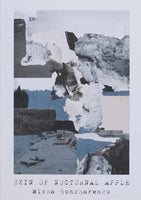 Skin of Nocturnal Apple is the debut collection of Ukrainian artist and poet Misha Honcharenko.

Written in the years prior to Russia's invasion in 2022, Skin of Nocturnal Apple offers a window into the life of a young queer man living and working in the future war-ravaged country.
The collection is accompanied with an afterword by psychoanalyst and writer Nick Blackburn (The Reactor, Faber 2022).
Paperback