---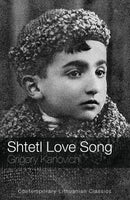 "A majestic, affectionate, totally gripping but unsentimental account of a way of life, the loss of which has made Eastern Europe a lesser place… a vivid, unforgettable picture" - The Riveter
In Shtetl Love Song Grigory Kanovich tells the story of his mother and in doing so peels back the surface of the Jewish community that lived in pre-war Lithuania.
Set against the backdrop of the political turmoil of 1930s, Kanovich lovingly recalls his native Jonava; its rich merchants and impoverished cobblers, the beggars and the gossips. He traces the growing fear of the Nazis, the Russian invasion, the political persecution and the arrests and the exiles that shaped a nation.
Shtetl Love Song is a requiem for the pre-war Jewish shtetl, for a people and a way of life that was destroyed in the maelstrom of war.
Paperback