---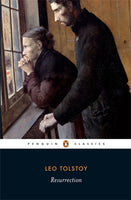 Leo Tolstoy's last completed novel, Resurrection is an intimate, psychological tale of guilt, anger and forgiveness.
Serving on the jury at a murder trial, Prince Dmitri Nekhlyudov is devastated when he sees the prisoner – Katyusha, a young maid he seduced and abandoned years before. As Dmitri faces the consequences of his actions, he decides to give up his life of wealth and luxury to devote himself to rescuing Katyusha, even if it means following her into exile in Siberia. But can a man truly find redemption by saving another person? Tolstoy's most controversial novel, Resurrection (1899) is a scathing indictment of injustice, corruption and hypocrisy at all levels of society. Creating a vast panorama of Russian life, from peasants to aristocrats, bureaucrats to convicts, it reveals Tolstoy's magnificent storytelling powers.

Anthony Briggs' superb new translation preserves Tolstoy's gripping realism and satirical humour. In his introduction, Briggs discusses the true story behind Resurrection, Tolstoy's political and religious reasons for writing the novel, his gift for characterisation and the compelling psychological portrait of Dmitri. This edition also includes a chronology, notes and a summary of chapters.
Paperback