---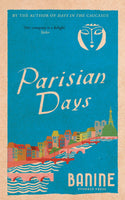 The Orient Express hurtles towards the promised land, and Banine is free for the first time in her life. She has fled her ruined homeland and unhappy forced marriage for a dazzling new future in Paris. Now she cuts her hair, wears short skirts, mingles with Russian émigrés, Spanish artists, writers and bohemians in the 1920's beau monde – and even contemplates love.

But soon she finds that freedom brings its own complications. As her family's money runs out, she becomes a fashion model to survive. And when a glamorous figure from her past returns, life is thrown further into doubt. Banine has always been swept along by the forces of history. Can she keep up with them now?

Told with vivacious wit and a lust for life, this companion to Days in the Caucasus is a bittersweet portrayal of youthful dreams, and the elusive search for happiness.
Hardback