---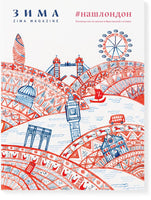 OUR LONDON is a useful guide to life in the British capital, a handbook to the most interesting places and a colourful reference book, which will become your faithful assistant for a long time. 800 places, 300 pages, 200 experts and hundreds of citizens who share their experiences and reveal the most intimate secrets of Russian-speaking London.

All addresses and secrets are revealed by local old-timers – Seva Novgorodtsev, Zinoviy Zinik, Masha Slonim, Boris Akunin, Boris Grebenshikov, Alexey Zimin, Natalia Osipova, Evgeny Chichvarkin, Tatiana Fokina, Konstantin Pinaev and many others. On the pages of the guide they share the most intimate things – from the phone number of the best Russian-speaking plumber to the coziest little shop in Barbican.
«НАШ ЛОНДОН» – это полезное руководство по жизни в британской столице, путеводитель по самым интересным местам и красочная настольная книга, которая надолго станет вашим верным помощником. 800 мест, 300 страниц, 200 экспертов и сотни горожан, которые поделились опытом и раскрывают самые сокровенные тайны русскоязычного Лондона.

Все адреса, явки и пароли, где нашему человеку хорошо, где его ждут и ценят, раскрывают местные старожилы – Сева Новгородцев, Зиновий Зиник, Маша Слоним, Борис Акунин, Борис Гребенщиков, Алексей Зимин, Наталья Осипова, Евгений Чичваркин, Татьяна Фокина, Константин Пинаев и многие другие. На страницах путеводителя они делятся самым сокровенным – от телефона лучшего русскоязычного сантехника до самой уютной лавочки в Барбикане.