---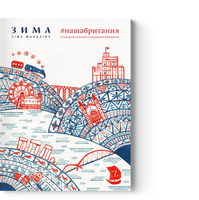 OUR BRITAIN is a guide to life in the United Kingdom, compiled by ZIMA together with well-known Russian-speaking insiders who have long settled in the UK and know and love it well.

432 pages of fascinating reading, 600 map points, 30+ insider stories.

With Our Britain you'll get a special insight into Bristol, Manchester, Liverpool, Edinburgh and other key cities across the country. Visit the best boarding schools and regional universities. Find out where and what kind of industry you're best placed to grow. Taste cheddar and leicester, Welsh lamb and Hereford beef. Visit areas of outstanding natural beauty, famous manors and English country houses. Then, of course, travel – along the coastal paths of Wales, the distilleries and castles of Scotland, the pubs of Northern Ireland, the rivers and canals of the Midlands.

Contributors include writer Owen Matthews, Professor Andrey Zorin, journalist Masha Slonim, Princess Ekaterina Golitsyna, Vasily Stepanov, Editor-in-Chief of the Russian magazine Seance, historian Kirill Kobrin, economist Andrey Movchan and many others.
«НАША БРИТАНИЯ» – это руководство по жизни в Соединенном Королевстве, составленное ЗИМА вместе с известными русскоязычными инсайдерами, давно обосновавшимися в Великобритании, хорошо знающими и любящими ее.

432 страницы увлекательного чтения, 600 точек на карте, 30+ историй инсайдеров.

С «Нашей Британией» вы по-особенному взглянете на Бристоль, Манчестер, Ливерпуль, Эдинбург и другие ключевые города страны. Посетите лучшие boarding schools и региональные университеты. Узнаете, где и какой бизнес лучше всего развивать. Распробуете чеддер и лейстер, уэльскую баранину и херевордскую говядину. Побываете в районах уникальной природной красоты, знаменитых поместьях и домах простых англичан. Ну и, конечно, отравитесь путешествовать – по береговым тропам Уэльса, вискокурням и замкам Шотландии, пабам Северной Ирландии, рекам и каналам Мидландс.

Среди авторов журнала – писатель Оуэн Мэтьюз, профессор Андрей Зорин, журналист Маша Слоним, княжна Екатерина Голицына, главный редактор российского журнала «Сеанс» Василий Степанов, историк Кирилл Кобрин, экономист Андрей Мовчан и многие другие.