---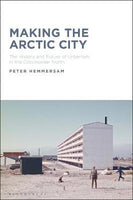 Making the Arctic City explores the unwritten history of city-building in the Arctic over the last 100 years. Spanning northern regions of North America, through Greenland, Svalbard to Russia, this is the first book to provide a truly circumpolar account of historical and contemporary architecture and urbanism in the extremes of the Arctic.

Featuring case studies and designs of both built and unbuilt Arctic urban futures, it explores the impact of 20th-century models of urban design and planning in Arctic cities, and shows how the Arctic offers valuable lessons for the post-colonial study of architectural and urban planning history elsewhere.

Revealing how contemporary architectural approaches continue to this day to essentialize 'extreme' climate conditions and to disregard the agency of Arctic city-dwellers - this book provides an important critical perspective that is vital to the formulation of future design and planning practices throughout many regions of the globe.
Paperback