---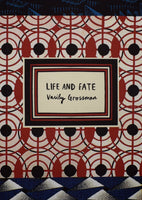 THE ORIGINAL TRANSLATION BY ROBERT CHANDLER, UPDATED AND REVISED.
The twentieth-century War and Peace, a broad portrait of an age and a searing vision of Stalinist Russia, Life and Fate is also the story of a family, the Shaposhnikovs, whose lives in the army, the gulag, a physics institute, a power station and a concentration camp are stunningly evoked, from their darkest to their most poetic moments. Judged so dangerous by the Soviet authorities that the manuscript was immediately confiscated when completed in 1960, Grossman's masterpiece was finally smuggled into the West and published in 1980.
The Vintage Classic Russians Series: Published for the 100th anniversary of the 1917 Russian Revolution, these are must-have, beautifully designed editions of six epic masterpieces that have survived controversy, censorship and suppression to influence decades of thought and artistic expression.
Translated by Robert Chandler
Paperback