---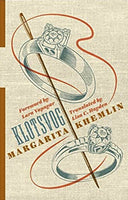 Klotsvog is a novel about being Jewish in the Soviet Union and the historical trauma of World War II – and it's a novel about the petty dramas and demons of one strikingly vain woman. Maya Abramovna Klotsvog has had quite a life, and she wants you to know all about it. Selfish, garrulous, and thoroughly entertaining, she tells us where she came from, who she didn't get along with, and what became of all her husbands and lovers.

In Klotsvog, Margarita Khemlin creates a first-person narrator who is both deeply self-absorbed and deeply compelling. From Maya's perspective, Khemlin unfurls a retelling of the Soviet Jewish experience that integrates the historical and the personal into her protagonist's vividly drawn inner and outer lives. Maya's life story flows as a long monologue, told in unfussy language dense with Khemlin's magnificently manipulated Soviet clichés and matter-of-fact descriptions of Soviet life.

Born in a centre of Jewish culture in Ukraine, she spent the war in evacuation in Kazakhstan. She has few friends but has had several husbands, and her relationships with her relatives are strained at best. The war looms over Klotsvog, and the trauma runs deep, as do the ambiguities and ambivalences of Jewish identity.

Lisa Hayden's masterful translation brings this gripping character study full of dark humour and new perspectives on Jewish heritage and survival to an English-speaking audience.
Paperback