---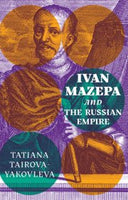 Ivan Mazepa (1639-1709), hetman of the Zaporozhian Host in what is now Ukraine, is a controversial figure, famous for abandoning his allegiance to Tsar Peter I and joining Charles XII's Swedish army during the Battle of Poltava. Although he is discussed in almost every survey and major book on Russian and Ukrainian history, Ivan Mazepa and the Russian Empire is the first English-language biography of the hetman in sixty years.

A translation and revision of Tatiana Tairova-Yakovleva's 2007 Russian-language book, Ivan Mazepa and the Russian Empire presents an updated perspective. This account is based on many new sources, including Mazepa's archive - thought lost for centuries before it was rediscovered by the author in 2004 - and post-Soviet Russian and Ukrainian historiography. Focusing on this fresh material, Tairova-Yakovleva delivers a more nuanced and balanced account of the polarising figure who has been simultaneously demonised in Russia as a traitor and revered in Ukraine as the defender of independence. Chapters on economic reform, Mazepa's impact on the rise to power of Peter I, his cultural achievements, and the reasons he switched his allegiance from Peter to Charles integrate a larger array of issues and personalities than have previously been explored.

Setting a standard for the next generation of historians, Ivan Mazepa and the Russian Empire reveals an original picture of the Hetmanate during a moment of critical importance for the Russian Empire and Ukraine.
Paperback