---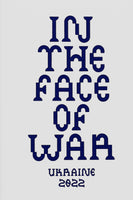 When, in February 2022, isolarii began publishing the war diary of Yevgenia Belorusets as a daily newsletter, the need seemed simple: to tell the news in Ukraine from a different vantage. The field of war was one of golden grain beneath an electric blue sky-a potent symbol, but painted in broad strokes. From Yevgenia's vantage, one sees the details: what it feels like to live in Kyiv and interact with the strangers who suddenly become your "countrymen;" the struggle to make sense of a good mood on a spring day; the instinctive aversion to being suddenly in the category of "civilians." The diary had a worldwide impact: translated by an anonymous collective of writers on Weibo; read live by Margaret Atwood; used as a slogan for anti-war protests in Berlin; and adapted for an episode of This American Life on NPR.
Yevgenia was asked to bring the diary to the 2022 Venice Biennale as part of the exhibition "This is Ukraine: Defending Freedom."  In partnership with the Office of the President of Ukraine, the exhibition shows Yevgenia's writing alongside the monumental and emotional art of Nikita Kadan and Lesia Khomenko - all of whom continue to work in wartime Ukraine.  IN THE FACE OF WAR is the official catalog to the exhibition - contextualizing the work of these three young artists in the tradition of Ukrainian culture.  It provides a lucid answer to an age-old question: what is art to do in the face of war?
Editors: Sebastian Clark, India Ennenga.
Authors: Nikita Kadan (artist), Yevgenia Belorusets (artist), Lesia Khomenko (artist), Greg Nissan (translator)
Paperback