---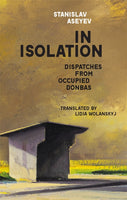 In this exceptional collection of dispatches from occupied Donbas, writer and journalist Stanislav Aseyev details the internal and external changes observed in the cities of Makiïvka and Donetsk in eastern Ukraine. Aseyev scrutinizes his immediate environment and questions himself in an attempt to understand the reasons behind the success of Russian propaganda among the working-class residents of the industrial region of Donbas.
Aseyev focuses on the early period of the Russian-sponsored military aggression in Ukraine's east, the period of 2015–2017. The author's testimony ends with his arrest for publishing his dispatches and his subsequent imprisonment and torture in a modern-day concentration camp on the outskirts of Donetsk run by lawless mercenaries and local militants with the tacit approval and support of Moscow. For the first time, an inside account is presented here of the toll on real human lives and civic freedoms that the citizens of Europe's largest country continue to suffer in Russia's hybrid war on its territory.
Translated by Lidia Wolanskyj.
Paperback