---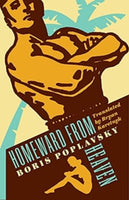 Homeward from Heaven is Boris Poplavsky's masterpiece, written just before his life was cut short by a drug overdose at the age of thirty-two. Set in Paris and on the French Riviera, this final novel by the literary enfant terrible of the interwar Russian diaspora in France recounts the escapades, malaise, and love affairs of a bohemian group of Russian expatriates. The novel's protagonist and sometime narrator is Oleg, whose intense love for two women leads him along a journey of spiritual transfiguration.

He follows Tania to a seaside resort, but after a passionate dalliance she jilts him. In the cafes of Montparnasse, Oleg meets Katia, with whom he finds physical intimacy and emotional candor, yet is unable to banish a lingering sense of existential disquiet and destitution. When he encounters Tania again in Paris, his quest to comprehend the laws of spiritual and physical love begins anew, with results that are both profound and tragic.

Taken by Poplavsky's contemporaries to be semiautobiographical, Homeward from Heaven stands out for its uncompromising depictions of sexuality and deprivation. Richly allusive and symbolic, the novel mixes psychological confession, philosophical reflection, and social critique in prose that is by turns poetic, mystical, and erotic. It is at once a work of daring literary modernism and an immersive meditation on the emigre condition.

Translated by Bryan Karetnyk
Paperback