---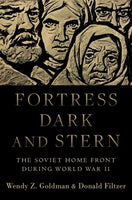 The first history of the Soviet home front experience during World War II and of the civilians who bore the burden of total war and played a critical role in the global victory over fascism. After Hitler's invasion of the Soviet Union in 1941, German troops conquered the heartland of Soviet industry and agriculture and turned the occupied territories into mass killing fields. The country's survival hung in the balance.

In Fortress Dark and Stern, Wendy Z. Goldman and Donald Filtzer tell the epic tale of the Soviet home front during World War II. Against the backdrop of the Red Army's early retreats and hard-fought advances after Stalingrad, they present the impact of total war behind the front lines in a chronicle of spirited defence efforts, draconian state directives, teeming black markets, official corruption, and selfless heroism.

In one of the greatest wartime feats in history, Soviet workers rapidly evacuated factories, food, and people thousands of miles to the east. After long and dangerous journeys in unheated boxcars, they built a new industrial base beyond the reach of German bombers. As the Soviet state reached the height of its power, imposing military discipline and sending millions of people to work thousands of miles from home, ordinary people withstood starvation, epidemics, and horrific living conditions to supply the front and make the Allied victory possible This book examines the dark and painful war years from a new perspective, telling the stories of evacuees, refugees, teenaged and women workers, runaways from work, prisoners, and deportees.

Based on a vast trove of new archival materials, Fortress Dark and Stern reveals a history of suffering, sacrifice, and ultimate triumph largely unknown to Western readers.
Hardback