---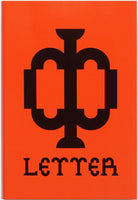 F Letter: New Russian Feminist Poetry collects the work of a dozen women poets and feminist and LGBTQ+ activists associated with the Russian online platform F pis'mo. Galina Rymbu, its founder and co-editor, picked the poems and, after insistent requests by the English-language editors (US), added two of her own pieces. Rymbu is an exceptionally talented, deep-thinking, protean, and romantic poet who is rapidly acquiring a major international profile; in 2020 she received political-refugee status in Ukraine. Most other poets in the anthology lived in Russia at the time of publication. Their work, indisputably controversial and ground-breaking in the Russian context, also has a lot to offer for poets and activists in the US. 

The F Letter anthology collects politically influential poems, such as the work of Lida Yusupova, inspirational for the Russian internet wave of #metoo discussions, Egana Djabbarova's poem in support of the Khachaturian sisters' case, or Galina Rymbu's "My Vagina," an explosive work in support of the activist Yulia Tsvetkova, whose childlike body-positive cartoons resulted in pornography charges. It also features the complex, meditative and stunning long poem by Oksana Vasyakina occasioned by the death of her father, a truck driver, of AIDS; the intense and philosophical love poetry of Lolita Agamalova, and a lot of other pieces that (we think) are among the most powerful poetic work created by Russian-speakers today.

-- By Eugene Ostashevsky and Ainsley Morse
With original poems by Lolita Agamalova, Oksana Vasyakina, Elena Georgievskaya, Egana Dzhabbarova, Nastya Denisova, Elena Kostyleva, Stanislava Mogileva, Yulia Podlubnova, Galina Rymbu, Daria Serenko, Ekaterina Simonova and Lida Yusupova; translated by Eugene Ostashevsky, Ainsley Morse, Helena Kernan, Kit Eginton, Alex Karsavin, Kevin M. F. Platt, and Valzhyna Mort.
Published by isolarii, 2020.
Paperback