---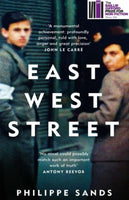 THE BRITISH BOOK AWARDS NON-FICTION BOOK OF THE YEAR 2017

SUNDAY TIMES TOP 10 BESTSELLER

When he receives an invitation to deliver a lecture in the Ukrainian city of Lviv, international lawyer Philippe Sands begins a journey on the trail of his family's secret history. In doing so, he uncovers an astonishing series of coincidences that lead him halfway across the world, to the origins of international law at the Nuremberg trial. Interweaving the stories of the two Nuremberg prosecutors (Hersch Lauterpacht and Rafael Lemkin) who invented the crimes or genocide and crimes against humanity, the Nazi governor responsible for the murder of thousands in and around Lviv (Hans Frank), and incredible acts of wartime bravery, East West Street is an unforgettable blend of memoir and historical detective story, and a powerful meditation on the way memory, crime and guilt leave scars across generations.
Paperback