---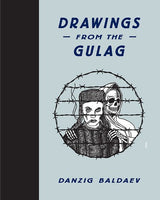 Featuring over 130 drawings and texts by Danzig Baldaev – author of the acclaimed Russian Criminal Tattoo Encyclopaedia Volume I, II, III – this book describes the history, horror and peculiarities of the Gulag system from its inception in 1918. 

Baldaev's work as a prison guard allowed him to travel across the former USSR where he witnessed scenes of everyday life in the Gulag first-hand, chronicling this previously closed world from both sides of the wire. The drawings, made during the Communist period, form a devastating document, a haunting echo of the works of Varlam Shalamov and Aleksandr Solzhenitsyn.

With every vignette, Baldaev brings his characters to vivid life: from the lowest zek (inmate) to the most violent tattooed vor (thief), the practises and inhabitants of the Gulag system are revealed in incredible and shocking detail. He documents the contempt shown by the authorities to those imprisoned, and the transformation of these citizens into survivors or victims. This graphic depiction exposes the systematic methods of torture and mass murder of millions undertaken by the administration, as well as the atrocities committed by criminals on their fellow inmates.
Hardback