---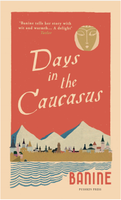 We all know families that are poor but 'respectable'. Mine, in contrast, was extremely rich but not 'respectable' at all...
This is the extraordinary memoir of an 'odd, rich, exotic' childhood – of growing up in Azerbaijan in the turbulent early twentieth century, caught between East and West, tradition and modernity.

Banine remembers her luxurious home, with endless feasts of sweets and fruit; her beloved, flaxen-haired German governess; her imperious, swearing, strict Muslim grandmother; her bickering, poker-playing, chain-smoking relatives. She recalls how the Bolsheviks came, and they lost everything. How, amid revolution and bloodshed, she fell passionately in love, only to be forced into marriage with a man she loathed – until the chance of escape arrived.

By turns gossipy and romantic, wry and moving, Days in the Caucasus is a coming-of-age story and a portrait of a vanished world, and of how the past haunts us.
Paperback