---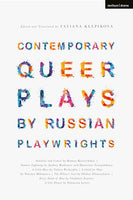 Contemporary Queer Plays by Russian Playwrights is the first anthology of LGBTQ-themed plays written by Russian queer authors and straight allies in the 21st century.

The book features plays by established and emergent playwrights of the Russian drama scene, including Roman Kozyrchikov, Andrey Rodionov and Ekaterina Troepolskaya, Valery Pecheykin, Natalya Milanteva, Olzhas Zhanaydarov, Vladimir Zaytsev, and Elizaveta Letter. Writing for children, teenagers, and adults, these authors explore gay, lesbian, trans, and other queer lives in prose and in verse.

From a confession-style solo play to poetic satire on contemporary Russia; from a play for children to love dramas that have been staged for adult-only audiences in Moscow and other cities, this important anthology features work that was written around or after 2013-the year when the law on the prohibition of "propaganda of non-traditional sexual relations among minors" was passed by the Russian government. These plays are universal stories of humanity that spread a message of tolerance, acceptance, and love and make clear that a queer scenario does not necessarily have to end in a tragedy just because it was imagined and set in Russia. They show that breathing, growing old, falling in love, falling out of love, and falling in love again can be just as challenging and rewarding in Moscow and elsewhere in Russia as it can be in New York, Tokyo, Johannesburg, or Buenos Aires.
Paperback.