---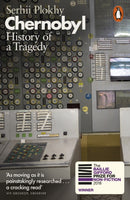 *WINNER OF THE BAILLIE GIFFORD PRIZE FOR NON-FICTION 2018*
*WINNER OF THE PUSHKIN HOUSE BOOK PRIZE 2019*
'As moving as it is painstakingly researched. . . a cracking read' Viv Groskop, Observer'
A riveting account of human error and state duplicity. . . rightly being hailed as a classic' Hannah Betts, Daily Telegraph
On 26 April 1986 at 1.23am a reactor at the Chernobyl Nuclear Power Plant in Soviet Ukraine exploded. While the authorities scrambled to understand what was occurring, workers, engineers, firefighters and those living in the area were abandoned to their fate. The blast put the world on the brink of nuclear annihilation, contaminating over half of Europe with radioactive fallout.

In Chernobyl, award-winning historian Serhii Plokhy draws on recently opened archives to recreate these events in all their drama. A moment by moment account of the heroes, perpetrators and victims of a tragedy, Chernobyl is the first full account of a gripping, unforgettable Cold War story.
'A compelling history of the 1986 disaster and its aftermath . . . plunges the reader into the sweaty, nervous tension of the Chernobyl control room on that fateful night when human frailty and design flaws combined to such devastating effect' Daniel Beer, Guardian.
'Haunting ... near-Tolstoyan. His voice is humane and inflected with nostalgia' Roland Elliott Brown, Spectator.
'Extraordinary, vividly written, powerful storytelling ... the first full-scale history of the world's worst nuclear disaster, one of the defining moments in the Cold War, told minute by minute' Victor Sebestyen Sunday Times'Plays out like a classical tragedy ... fascinating' Julian Evans, Daily Telegraph.
'Here at last is the monumental history the disaster deserves' Julie McDowall, The Times.
Paperback