---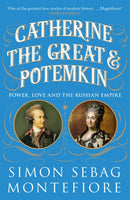 'One of the great love stories of history, in a league with Napoleon and Josephine, and Antony and Cleopatra ... Excellent, with dazzling mastery of detail and literary flair' Economist
It was history's most successful political partnership - as sensual and fiery as it was creative and visionary. Catherine the Great was a woman of notorious passion and imperial ambition.

Prince Potemkin - wildly flamboyant and sublimely talented - was the love of her life and her co-ruler. Together they seized Ukraine and Crimea, defining the Russian empire to this day. Their affair was so tumultuous that they negotiated an arrangement to share power, leaving Potemkin free to love his beautiful nieces, and Catherine her young male favourites.

But these 'twin souls' never stopped loving each other. Drawing on their intimate letters and vast research, Simon Sebag Montefiore's enthralling, widely acclaimed biography restores these imperial partners to their rightful place as titans of their age.
Paperback