---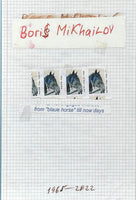 Considered one of the most influential contemporary artists from Eastern Europe, he has been developing a body of experimental photographic work exploring social and political subjects for more than fifty years.

Boris Mikhailov's pioneering practice encompasses documentary photography, conceptual work, painting and performance. Since the 1960s, he has been creating a haunting record of the tumultuous changes in Ukraine that accompanied the collapse of the Soviet Union and the disastrous consequences of its dissolution.
In an extraordinarily rich body of work that defies categorisation, Mikhailov unsettles visual codes. Inventing his own distinct artistic language in series that vary enormously in terms of technique, format and approach, he bears witness to the harsh social realities and absurdities of his time.
Combining humour and tragedy, Boris Mikhailov unceasingly defends artistic freedom as both a means of resistance. Through his uncompromising treatment of controversial subjects, he demonstrates the subversive power of art.
For more than half a century, he has been bearing witness to the grip of the Soviet system on his country, constructing a complex and powerful photographic narrative on Ukraine's contemporary history that in light of current events, is all the more poignant and enlightening.
Paperback - Limited to an Edition of 1500