---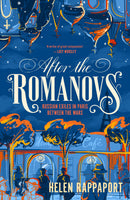 "Entertaining and, at times, heart-wrenching … Rappaport, a prolific historian and highly regarded Romanov expert, unveils a Paris in which Russians had long played a prominent role" – Douglas Smith, Wall Street Journal

From the time of Peter the Great, Paris was the playground of the tsarist aristocracy. But the fall of the Romanov dynasty in 1917 forced Russians of all types to flee their homeland. Leaving with only the clothes on their backs, many came to France's glittering capital. Paris was no longer an amusement, but a refuge.
There, former princes could be seen driving taxicabs, while their wives found work in the fashion houses, where their unique Russian style inspired designers such as Coco Chanel. Talented intellectuals, artists, poets, philosophers and writers eked out a living at menial jobs, while others found great success. Nijinsky, Diaghilev, Bunin, Chagall, and Stravinsky joined Picasso, Hemingway, James Joyce, and Gertrude Stein in the creative crucible of the Années folles.
Politics as much as art absorbed the émigrés. Activists sought to overthrow the Bolshevik regime from afar, while double agents plotted espionage and assassination from both sides. Others became trapped in a cycle of poverty and their all-consuming homesickness for Russia, the land they had been forced to abandon.
This is their story.
Hardback