---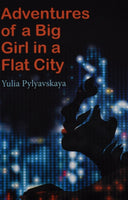 In the Ukrainian town of Kholmysty, back in 1999, there is no feminism, no mobiles, no war. 
There are phone booths, a language barrier and a need to love. 
Osha and Stapler are two teenagers with no social skills, which is exactly why their relationships are not working. 
Osha is leaving for London by bus – during the journey she goes through the past five years with Stapler. What went wrong? What mistakes should she avoid in the future? 
By the end of the journey, she find love in the most unexpected place and realises that it was she who needed to give herself the attention and love she was seeking. 
Paperback