---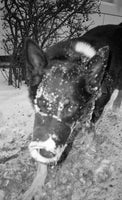 Что мы наделали?
Во времена катастрофы мы хотим понять, каково это — оказаться на неправильной стороне истории. Этим небольшим сборником работ от автор:ок из России и Беларуси — а также людей из других регионов, которые чувствуют себя причастными к войне, — мы хотим начать процесс рефлексии на тему фашизма, империализма, ответственности и вины. Все, кто прислали нам свои тексты, иллюстрации или фотографии, поддерживают Украину. И все смотрят на разрушительную, убийственную войну с разных сторон. От деколониальной активистки из Калмыкии до участни:ц протестов 2020-2021 годов в Беларуси до российского арт-куратора в Лондоне до художника, прошедшего московские политические суды, до небинарных поэт:ок до молодой матери — все мы с ужасом спрашиваем себя: что мы наделали?

Этот выпуск — наша попытка зафиксировать то, что происходит за гранью добра и зла.
На русском и на английском
----
What have we done?
In times of disaster, we want to know what it's like to be on the wrong side of history. Through this issue, we hope to provoke reflection on fascism, imperialism, apathy, and responsibility. The zine includes work across mediums from Russia, Belarus, and beyond. All of our contributors share in their support for Ukraine, and all bring their own perspective: from a decolonial activist fighting racism in Kalmykia, to an active member of the 2020-2021 Belarusian protest movement, to a Russian art curator in London, to an artist who went on political trial in Moscow, to a non-binary poet, to a young mother — and we have all been asking ourselves in terror: what have we done?

This issue is our attempt to capture what goes on beyond good and evil.
In Russian and English