---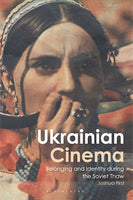 Ukrainian Cinema: Belonging and Identity during the Soviet Thaw is the first concentrated study of Ukrainian cinema in English. In particular, historian Joshua First explores the politics and aesthetics of Ukrainian Poetic Cinema during the Soviet 1960s-70s. He argues that film-makers working at the Alexander Dovzhenko Feature Film Studio in Kiev were obsessed with questions of identity and demanded that the Soviet film industry and audiences alike recognize Ukrainian cultural difference.
The first two chapters provide the background on how Soviet cinema since Stalin cultivated an exoticised and domesticated image of Ukrainians, along with how the film studio in Kiev attempted to rebuild its reputation during the early Sixties as a centre of the cultural thaw in the USSR. The next two chapters examine Sergei Paradjanov's highly influential Shadows of Forgotten Ancestors (1965) and its role in reorienting the Dovzhenko studio toward the auteurist (some would say elitist) agenda of Poetic Cinema.
In the final three chapters, Ukrainian Cinema looks at the major works of film-makers Yurii Illienko, Leonid Osyka, and Leonid Bykov, among others, who attempted (and were compelled) to bridge the growing gap between a cinema of auteurs and concerns to generate profit for the Soviet film industry.
Paperback